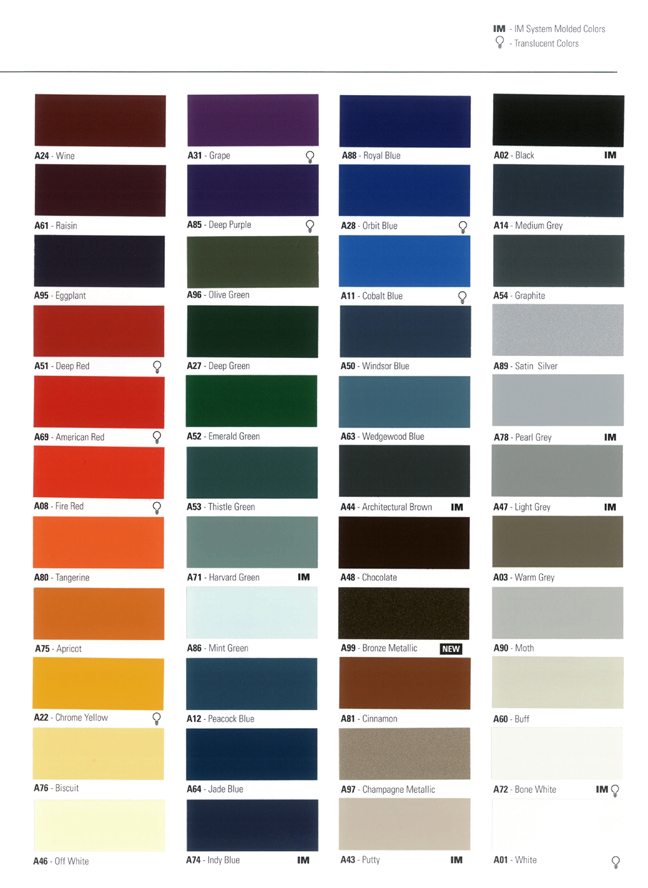 APCO Ink & Paint Colors
Colors shown represent imprinting and background colors available for most APCO products. Refer to individual product catalogues for colors that apply to a specific product. Custom formulated colors are available upon request.

Colors are reproduced as accurately as possible to match inks, paints and coatings. Color appearance may vary slightly depending upon application. Subsurface applied color will vary slightly from surface applied colors.

Aluminum Finishes*
313 Dark Bronze Anodized
315 Black Duranodic Anodized
Natural Satin Anodized
Gold Gloss**
Silver Gloss**

* Aluminum finishes are subject to considerable color range, "PERFECT COLOR MATCH IS IMPRACTICAL IN PRODUCTION" states ALCOA in its "Aluminum in Architecture" manual. APCO will make every effort to minimize this problem, but will necessarily consider variations within the standard of a quality product.

** Consult factory for availability.

NOTE: Anodized and duranodic components may be substituted with a simulated metallic polyurethane when deemed appropriate by the factory.
When selecting any of APCO's standard or non-standard colors, if your selection is critical, we suggest that you request actual material samples.

IM System / SignMatch Molded Plastic Colors
IM System, SignWord Holders, SignMatch, Informer Message Strips, Director Product.
Injection Molded products are made of an automotive grade plastic in the colors listed below. Colors are representative and are not necessarily exact matches of the molded products.
A02 - Black
A43 - Putty
A44 - Architectural Brown
A47 - Light Grey
A72 - Bone White
A78 - Pearl Grey

Accord 15 Molded Plastic Colors
Accord 15 molded plastic End Clips are available in the following opaque integral colors. Contour shaped End Clips may not be available in full range - consult factory.
A02 - Black
A43 - Putty
A72 - Bone White
A78 - Pearl Grey

Translucent Colors:
T90- Ice Blue
T91 - Frost Grey
T92 - Mist Green
T93 - Butterscotch

Additionally, the four Translucent Colors listed (above/right) are offered for Contour End Shape only. Translucent Colors require the "T" before the number when ordering. Contact APCO for additional information and material samples.

SignWord Paper Colors
SignWord perforated paper is a 60 lb. cover stock, specially selected for compatibility with a variety of laser & ink jet printers. The paper is sized and perforated for use with all of APCO's standard interior products including the Accord 15, Arcadia, FullView, and IM/SignMatch Systems.

A43 - Putty (front) / A94 Sand (back)**
A47 - Light Grey
A72 - Bone White (front) / A00 - Paper White (back)
A78 - Pearl Grey (front) / A98 - Pearl Light (back) **

**A94-Sand and A98 Pearl Light are a 50% screen (or tint) of A43-Putty and A78 Pearl Grey, respectively, and are only available as paper color printed on the back side of A43-Putty and A78 Pearl Grey paper. They are not available in Painted or Screen Printed finishes. They are intended for use in conjunction with Putty and Pearl Grey hardware and holders.
Note: Paper inserts for the Arcadia product are not available in A47 Light Grey.

Translucent Colors
for Exterior Illumination
Colors which lend themselves to translucent application for backlighting are designated. Translucent Colors appear significantly different when backlit. Other Colors may be suitable for backlighting and should be submitted for evaluation.